Locating your friends...
Bark Up is an app connected to a GPS tracker. The product allows people to track down wayward pets who may have got lost, ran away or been dog-napped. It shows the fastest route with a clean, simple user interface.
My role
My role was to carry out user research to discover if there was a user need for a product like this. Identify the key user groups and key tasks, set usability goals, develop a prototype and run a usability test before iterating on the design.
Challenges
What should we do when our pet run away? If someone steals him? Or we don't know where he is exactly.
Stage One
Think
---
Competitor analysis
Knowing where you stand with your project is a crucial part of getting things right. Bark Up doesn't have a true competitor, so I looked at other tracking apps, like family & relatives locator, running tracker. It helped tremendously to find the right features to build the MVP.
User Research
I interviewed 10+ people in different parcs to evaluate the need for the product. By recording the interview, understanding their reactions and feelings it displayed the following:
•

80%

have already lost a pet in the past and didn't know what to do
•

15%

found the collar to be an issue, in case it gets cut or stuck
•

85%

would love an app that helps them find their pet
•

10%

didn't have a smartphone
•

90%

were sure that their pet could escape in the future
User personas
Based on the field visit, I found that 2 groups stood out: pet owners that are afraid of losing them and professionals pet walkers/sitters. My primary persona is Ashley. I knew that if we can answer her needs, 80% of users would be satisfied.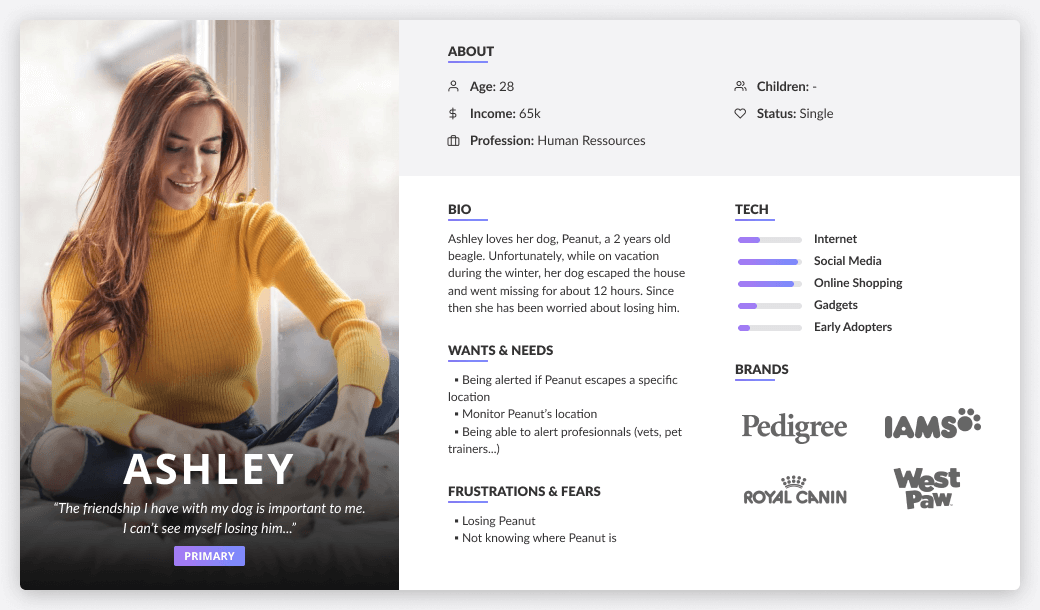 User scenarios
A user scenario is the story of a user performing an action or having an objective with the product. They account for the most popular need of the users. Having the user scenarios fleshed out greatly helped with prioritizing which feature should be build first.
• "As a dog owner, I want to know when my dog is going out of a defined area, so that I can catch him." (be alerted when her dog goes beyond a certain area)
• "As a dog owner, I want to know where my dog is so that I don't have to worry where he is." (Red route: find pet's location)
Red routes
Based on my research findings (user personas, scenarios...) I've created the red routes. These routes are the critical and frequent paths that users take to complete their tasks. Red routes are the fundamental journeys that make the product worthwhile. It typically captures 90% or more of the operations of the users.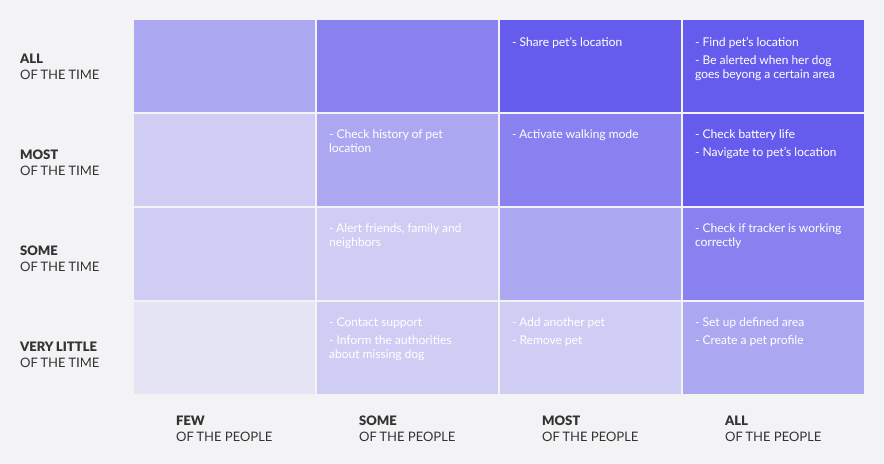 Stage Two
Make
---
Paper Prototypes
Building the interface is the "easy" part if you have done all the research first. With my previous finding in mind, I started sketching prototypes for Bark Up. I aimed to make the two main paths (finding their pet's when they get lost, and knowing their location at all times) as easy and simple as possible. Once the design was finding its place, I created wireframes to help with the user testing.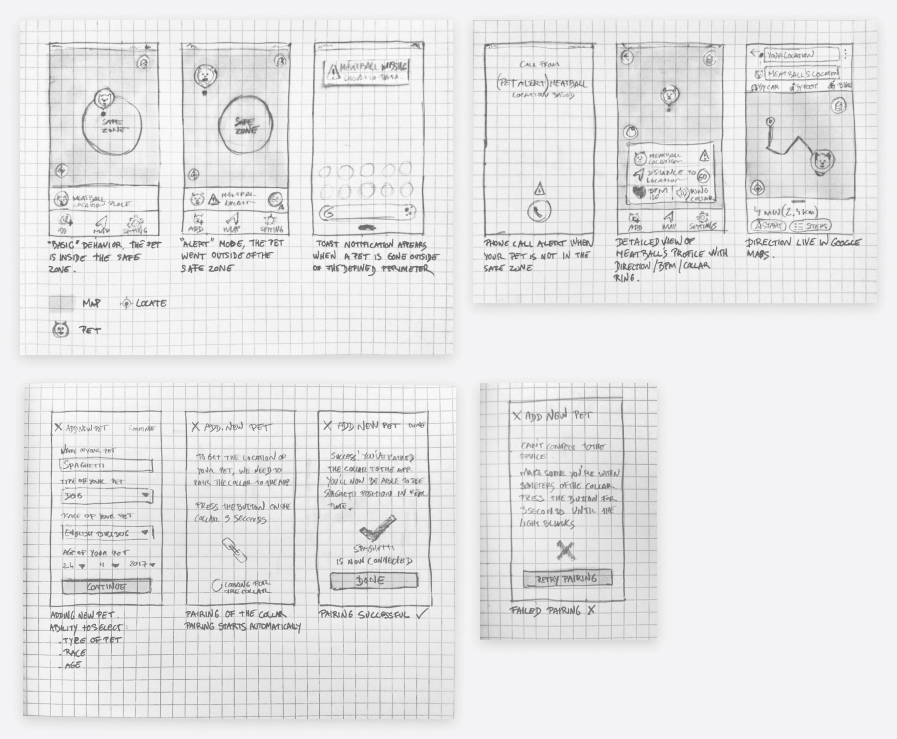 Wireframes
Wireframes can be a bit boring, but it does give the blueprint of what the app will look like. I had to make some minor adjustments for the interface to work on different layouts.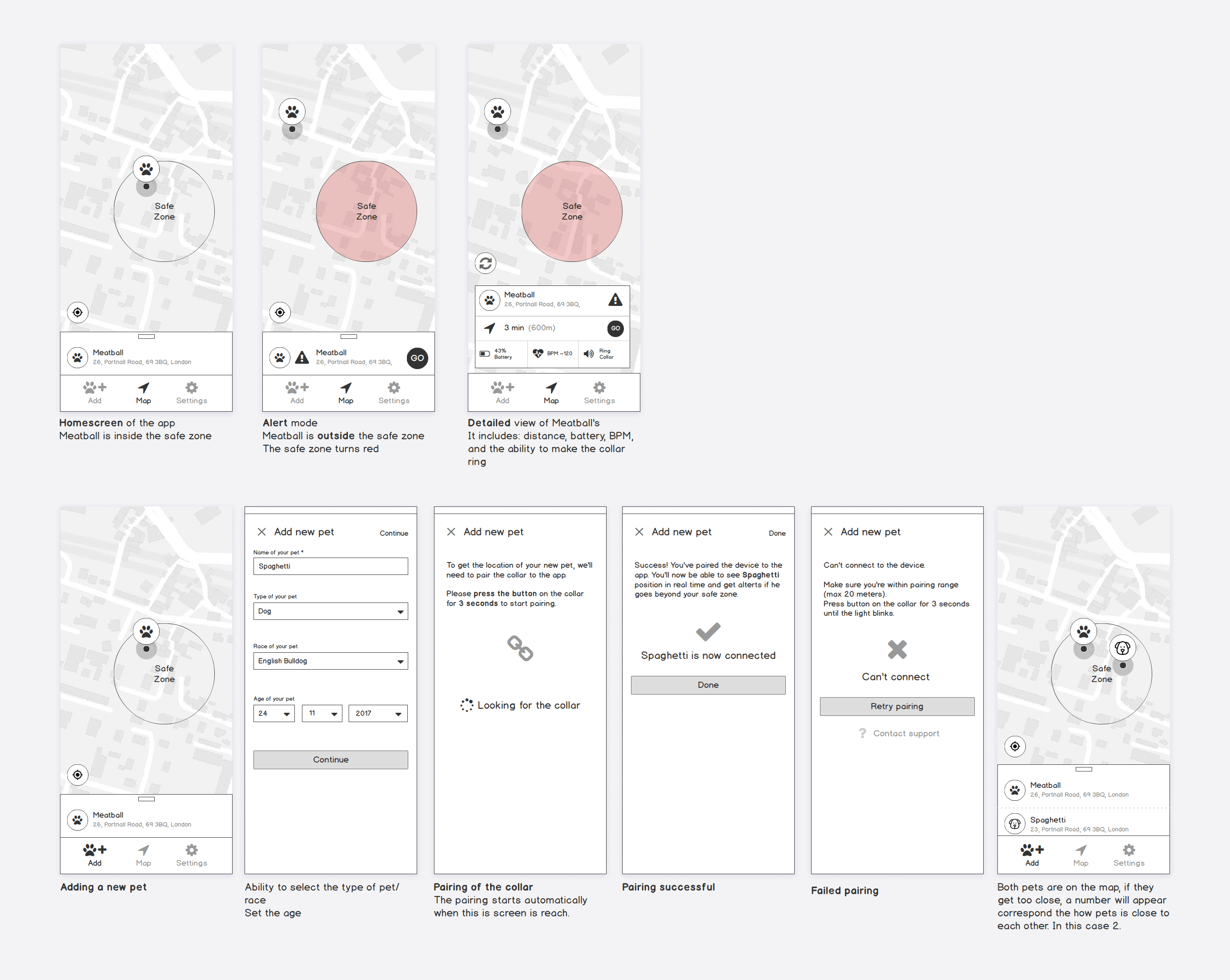 Prototypes
Based on the wireframes, I've created a prototype. I tried to keep the interface readable with a clear purpose: displaying the whereabouts of their pets.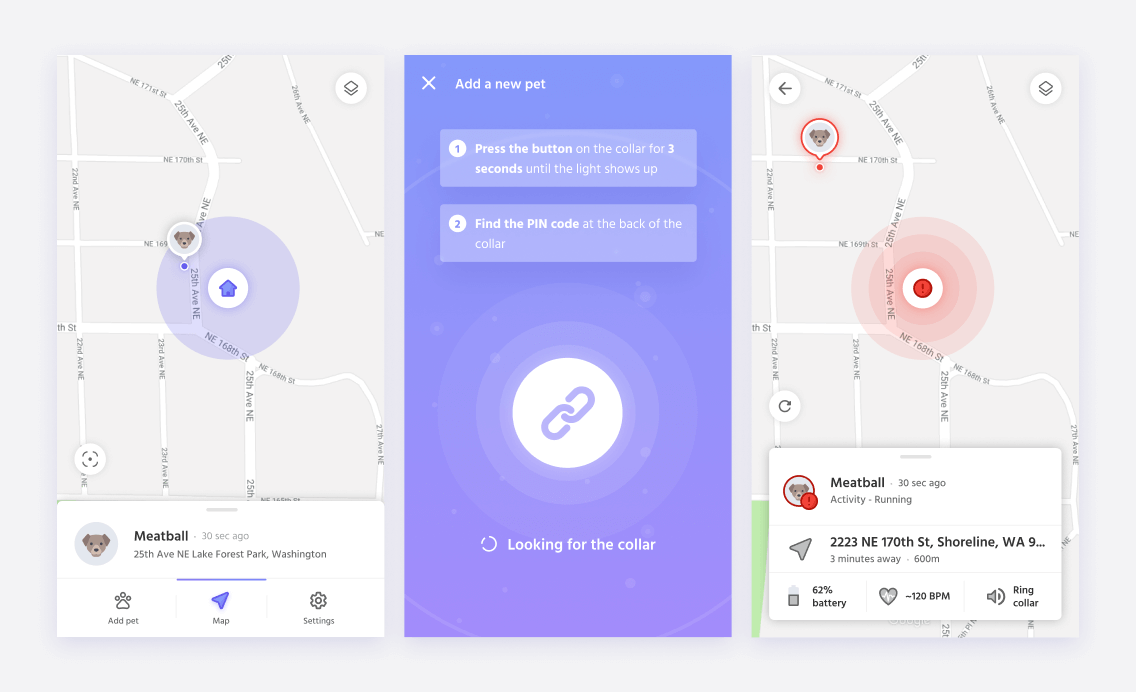 Stage Three
Check
---
Usability Testing
Usability testing is a key part of understanding the user behavior and creating great user experience. With all the paper prototypes ready, I performed a usability testing with 8 users with different background.
The concept of the app is pretty straight forward so I wanted to test if my design answered the need the users had.
It helped uncover a need where the users would want a success screen when they have found their pet, creating a positive feedback loop with the product.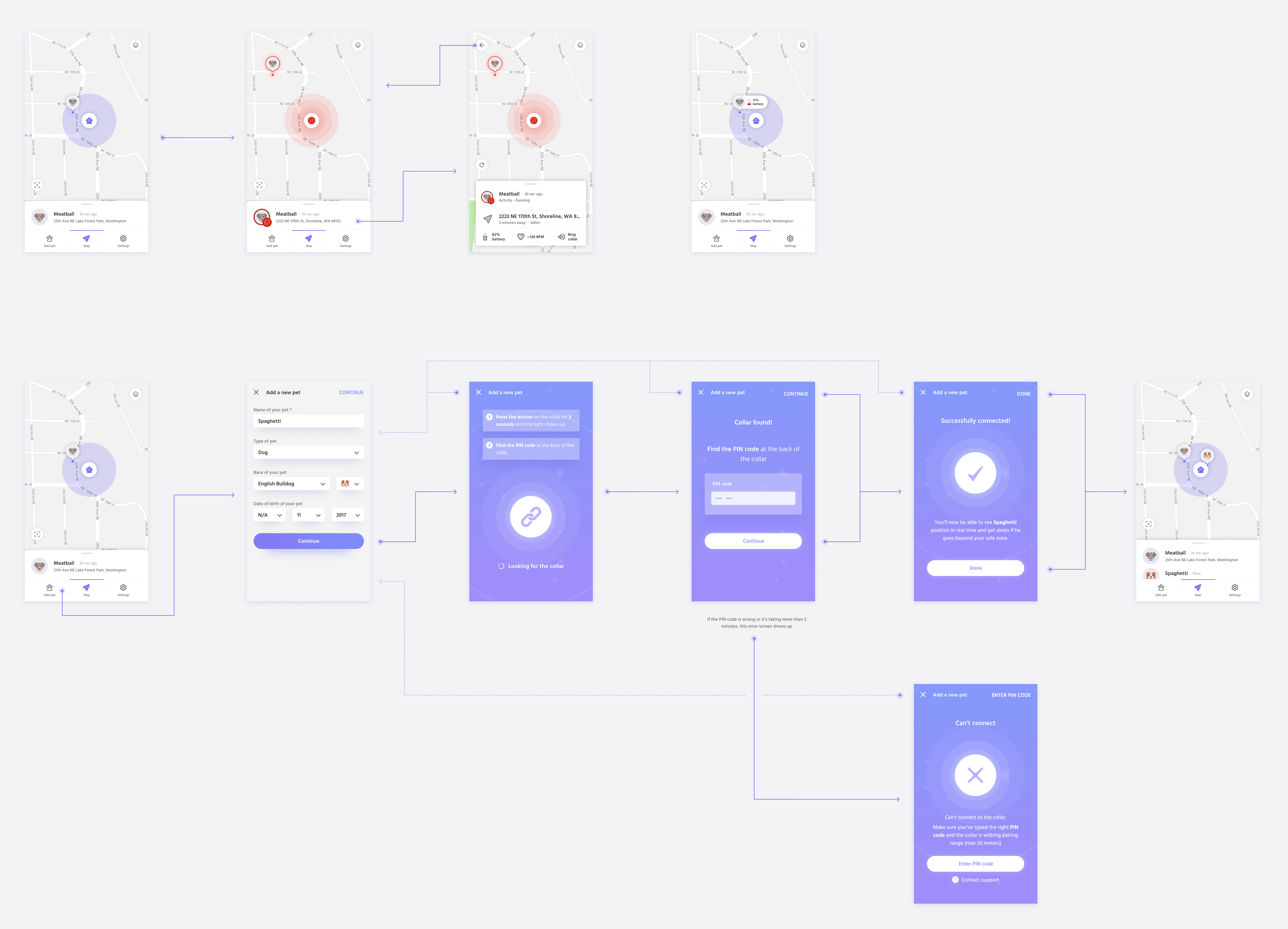 Measuring Usability
Good design work is assured by both the quantitative and the qualitative way of answering questions.
Effectiveness
• Success Rate: 100% of participants correctly and completely achieved the goal for both scenarios "Find your pet" and "Add your pet".
• 100% of tasks completed successfully on their first try.
Efficiency
• Average time taken to complete "Find your pet": less than 30 seconds.
• Average time taken to complete "Add your pet": 1 minute 40 seconds.
• Homepage with a map seems like a great solution as no actions is needed to display where their pet is located.
• No errors to correct.
Satisfaction
• 100% of users would recommend it to a friend.
• Positive comments were: "super easy to use !", "I already have the information here... so simple!", "you know what you need to do, it's right there".
• When asked how they felt about the product, they loved its simplicity and the fact that you're directly on the map when opening the app. Their worries were about how accurate the GPS on the collar would be and its battery.
Outcome
What I learned
---
Research
Doing research as early as possible prevents issues further down the road. Despite the differences between the users, they mostly shared the same goal: tracking their pets. Understanding who are our users and what are they trying to do is essential in creating great products and experiences. These questions can only be answered by doing user research.
Testing, testing, testing...
I wished I tested my prototypes earlier. A design exposed to different users (with their opinions, experiences, and criticisms) will unveil multiple problems that you'll have to solve, ultimately creating a better solution.
Realistic Project Planning
Creating a plan that is realistic is a hard thing to do, and something I could improve on. For any projects, creating a roadmap to navigate through what can be a foggy route is invaluable. It saves you time, resources and energy.